IAHR Executive Committee Members 2015-2020
Deputy Treasurer: Marion Maddox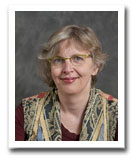 Prof. Marion Maddox  
Professor of Politics Macquarie University, Sydney and a Conjoint Professor in Religion and Public Life at the University of Newcastle, NSW
Marion Maddox is a Professor of Politics at Macquarie University, Sydney and a Conjoint Professor in Religion and Public Life at the University of Newcastle, NSW. She holds PhDs in Theology (Flinders University, 1992) and Political Philosophy (University of NSW 2000). She specialises in relationships between religion and politics.

In 1999-2000, as Australian Parliamentary Fellow in Parliament House, Canberra, she wrote her first book, For God and Country: Religious Dynamics in Australian Federal Politics (Parliament of Australia 2001). God Under Howard: The Rise of the Religious Right in Australian Politics Allen & Unwin 2005) was "exemplary," according to the Times Literary Supplement, and was shortlisted for the Queensland Premier's Literary Awards. Taking God to School (Allen & Unwin 2014) was called "important" and "essential reading" by former federal Education Minister Peter Garrett and "timely, important and powerfully argued" by the Age and Sydney Morning Herald newspapers.

She has taught religious studies at the University of South Australia and at Victoria University, Wellington, and politics at the University of Adelaide and Macquarie University. From 2008 to 2011 she was Director of Macquarie University's Centre for Research on Social Inclusion. In 2010 and 2012, she was Visiting Professor at the Observatoire du Religieux, Institut des Études Politiques, Aix en Provence. She has also held visiting fellowships at the Australian National University, the University of Adelaide and Sydney University.

She currently holds an Australian Research Council Future Fellowship, working on a four-year project entitled 'Religion, State and Social Inclusion: Lessons from schools in three countries', and is lead researcher on a five-member Australian Research Council project on Religion and Political Thought. In 2014 she was appointed to the Australian Research Council College of Experts.

She is married to food scholar and former restaurateur Michael Symons, so dines very well. She also gardens, knits and keeps bees.