IAHR Executive Committee Members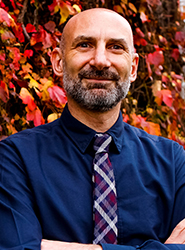 Dr. James Kapalo
Study of Religions Department
University College Cork
Ireland
Telephone: 00 353 21 4903773
Website
Further Member: Dr. James Kapalo
I am Senior Lecturer (Associate Professor) in the Study of Religions at University College Cork, Ireland and co-Director of the Marginalised and Endangered Worldviews Study Centre (MEWSC). I received my training in area studies and history at the School of Slavonic and East European Studies (SSEES), London and have a PhD in the Study of Religions from the School of Oriental and African Studies (SOAS), London.
My research interests include minority religions and ethno-religious minorities in Eastern Europe, including questions of identity, politics, and state regulation of religion, religion and communism, archives and folklore. I am the author of two monographs, Text, Context and Performance: Gagauz Folk Religion in Discourse and Practice (Brill 2008) and Inochentism and Orthodox Christianity: Religious Dissent in the Russian and Romanian Borderlands (Routledge 2019), as well as several articles and book chapters. My recent work has included public exhibitions and the creation of online digital resources for scholars of religions.
I was president of the Irish Society for the Academic Study of Religions from 2015-18 and am the managing editor of the Irish Journal for the Academic Study of Religions (JISASR) (2014-present). I sit on the board of Society of Romanian Studies (2016-present).